Do you already know how to paddle and just want easy access to getting on the river quickly? Renting is quick, easy, and doesn't require loading / unloading, or roof racks. Our main location is in Oregon City. We are located right on the water so you can just jump into your boat from the docks and start paddling! Our friendly staff will give you a quickstart refresher and orient you to the location and best route. Call for reservations or just show up during our hours of operation. Looking for something more scenic? Paddle above the falls to the narrows at Willamette Park in West Linn, reservations required.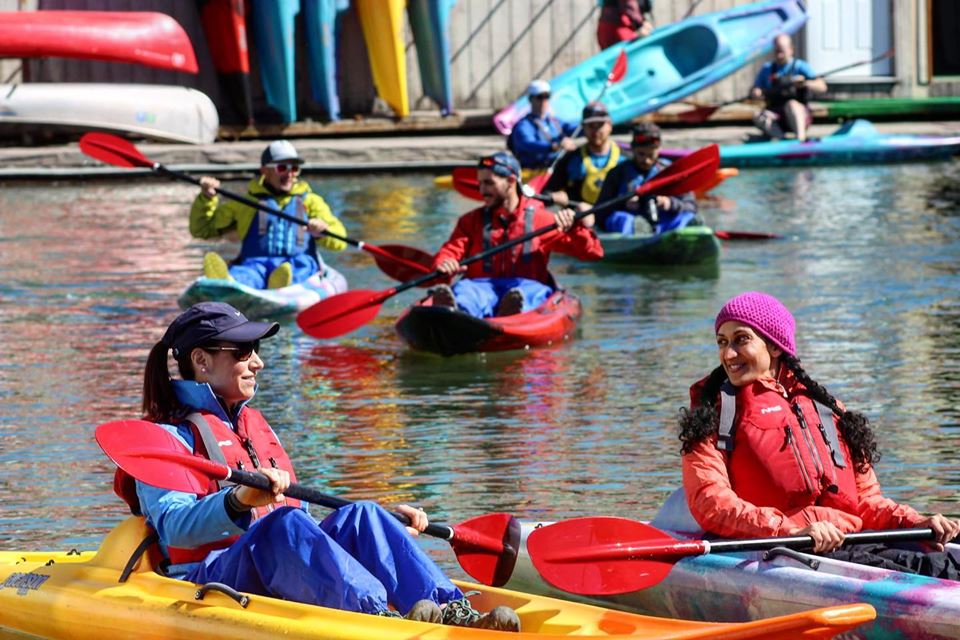 Willamette Falls is home to blue herons, osprey, old factories and locks. Walk-ins are always welcome, but you can make reservations. Making a reservation allows us to more efficiently get you out on the water which is where you want to be after all. Call us in advance if you would like to set up a time not during our usual hours.
eNRG Kayaking's number one goals is to minimize risk on our trips. For this reason, eNRG Kayaking reserves the right to postpone trips due to flooding river conditions or inclement weather (high winds & lightning). We appreciate your understanding when Mother Nature decides not to cooperate with our schedule. eNRG Kayaking reserves the right to reschedule a trip due to low enrollment in a course.
We have a trailer full of equipment that will allow you to enjoy some incredible recreational paddling. This park is located where the Tualatin River meets the Willamette River. From the park you have easy access to adventure through the Willamette Narrows which is full of tiny islands and rocky cliffs. Our rental fleet includes recreational kayaks, stand-up paddleboards, tandem sit-on-top kayaks, and canoes; 2 hour minimum.
eNRG Kayaking also works with West Linn Parks & Recreation to provide monthly introduction to paddle classes as well as summer camps. Check out more information on their page West Linn Recreation Programs.
Click on each category for more details
Contact us if you have additional questions!
Bring water, sunscreen, hat / sunglasses, and clothing that can get wet. A change of clothes and rain gear for wind or rain is recommended based on weather conditions.
Please arrive 15 minutes prior to your start time. Give extra time on warm days as parking space is more limited then. 
We will provide credit, free rescheduling, or a 75% refund with more than 21 days in notice. Camps you cancel 14 days prior are subject to a 50% refund or credit, and cancellations occuring less than 14 days are non-refundable. We do not prorate tuition for days missed due to illness or injury.
Physical distancing will be maintained when possible. Masks will be worn when students are within 6 feet of each other. Temperatures willbe check on arrival and hand sanitizer will be available to wash hands both before and after meals. Equipment wil be washed after use. Parents will drive children to the river when possible to minimize shuttles. There will be no overnights.