A new moon. A new Adventure.
This is a weekend adventure through the Clackamas and Willamette river basins. Saturday afternoon consists of rafting/inflatable kayaking 8 miles down the Clackamas River. Saturday evening consists of dinner and camping on Goat Island, home to thirty heron rookeries. Sunday morning includes breakfast before 2.5 miles of kayaking up to Willamette Falls. Goat Island Getaway concludes at eNRG Kayaking in Oregon City with lunch. Tents and personal items not included. This is a wonderful weekend to grow as a paddler – and as a community.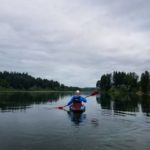 First Event is August 11 - 12
Call (503)772-1122 for questions and reservations.