This five-day whitewater course is guided by the principles of kayaking technique and safety skills. Aimed towards children with prior paddling experiences and a determined desire to learn, this kayak-focused program helps teenagers extend their boundaries through drills, games, and scenarios in an outdoor setting. Adventure Camp is great for those previously enrolled in Discovery Camp and it prepares them for future internships, racing, or family overnight trips.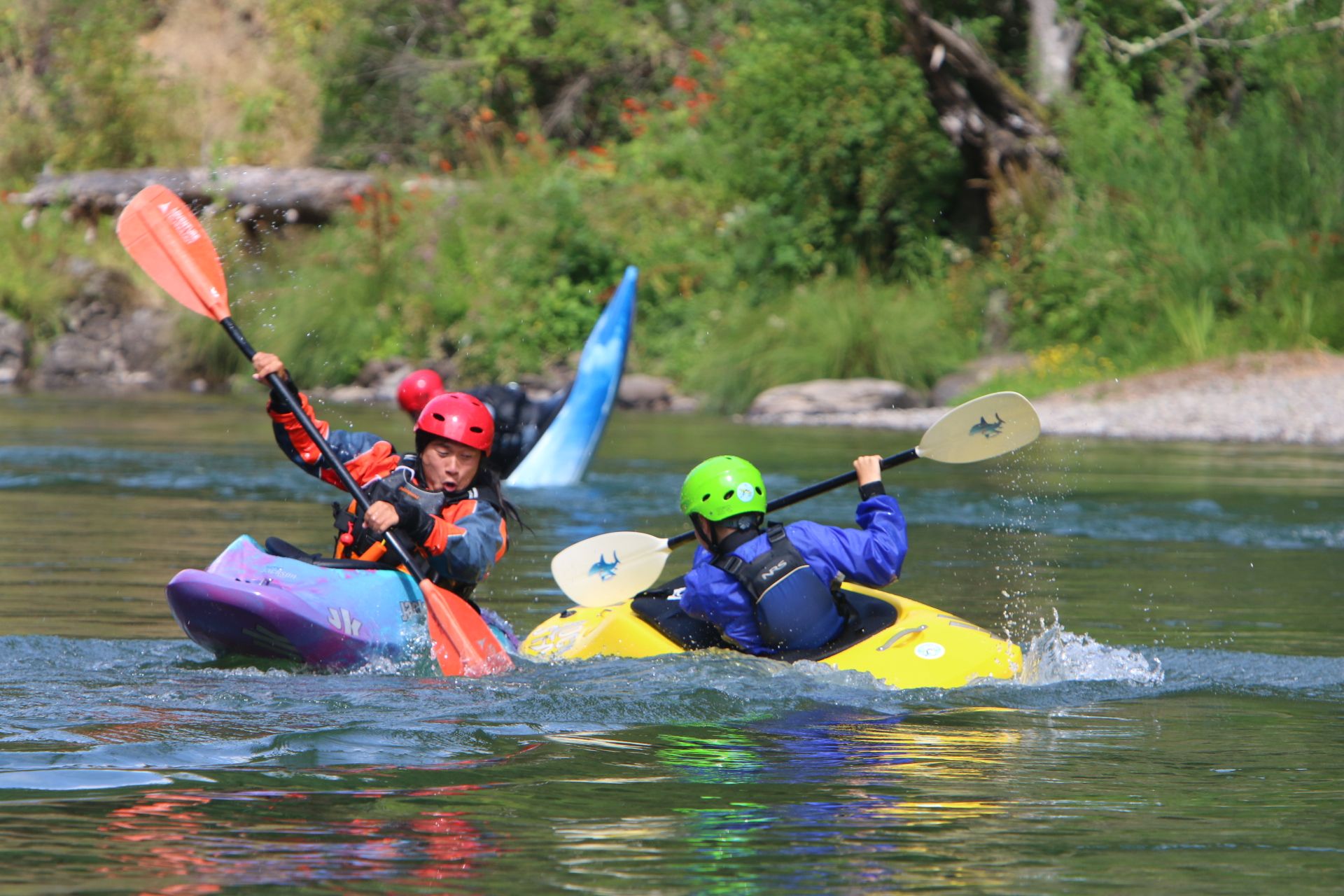 Click on each category for more details
Contact us if you have additional questions!
Kids should bring synthetic swimwear (Already worn upon arrival), sunscreen, a filled water bottle, and closed toed shoes that stay on while swimming to protect their feet from sharp objects. We recommend children have their own rash guard for under the lifjeacket and their own personal drybag. These items are available for purchase.
We provide the boat, helmet, paddle, skirt, lifejacket, and wetsuit needed to paddle. Additionally, we have a throwbag and first aid kid with us at all times. eNRG Kayaking will shuttle kids to each river run.
eNRG Kayaking supports a wide age range. Generally, kids are not split up by age and instead by skill level. However, skill levels will intermingle at times for teaching senarios. If needed, students will be isolated based on age – partcularly during overnights.
Please provide a sleeping bag, a sleeping pad, another set of river clothes, one pair of land clothes, lunch, extra snacks / money in addition to the regular items. We will shuttle the kids from Oregon City to Mill City (Just over an hour away) at 9AM on Thursday and return them on Friday by 4PM. Please do not miss Thursday's drop off. We will provide dinner and breakfast but not the two lunches. We will be sleeping in the shop with a refrigerator, bathroom, and running water.
We will provide credit, free rescheduling, or a 75% refund with more than 21 days in notice. Camps you cancel 14 days prior are subject to a 50% refund or credit, and cancellations occuring less than 14 days are non-refundable. We do not prorate tuition for days missed due to illness or injury.
Physical distancing will be maintained when possible. Masks will be worn when students are within 6 feet of each other. Temperatures willbe check on arrival and hand sanitizer will be available to wash hands both before and after meals. Equipment wil be washed after use. Parents will drive children to the river when possible to minimize shuttles. There will be no overnights.