Do you want to become a raft guide?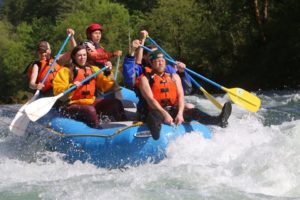 Class II – III
Rafting & Rescue Instruction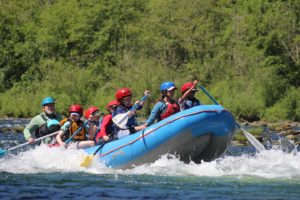 18 hours
2 days
Mill City, OR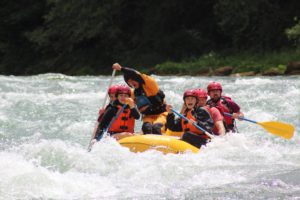 Ages 16+
Weight 50-300 lbs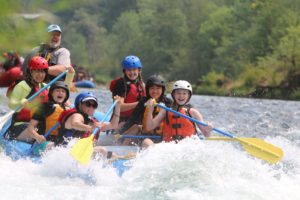 Experience
Class II - III
Rafting & Rescue Instruction
Logistics

18 hours
2 days
Mill City, OR
Person
Ages 16+
50 lbs to 300 lbs
- We Offer -
AN ESCAPE
FROM THE CITY
- We Offer -
SWIFT WATER RESCUE
- We Offer -
LOCAL AMENITIES
Do you have what it takes to become a professional raft guide? Spend two full days on the beautiful North Santiam river training with our top guide instructors Brock Browning and Kurt Doettger, where you will learn the skills required to safely enjoy whitewater recreation! Join our guide trainees for the coming season with time both in-class learning and in experiential education on the river. 
Starting each morning with a cup of tea or coffee in the shop, we will dive into the specifics of hydrology and reading whitewater. Day two will include the learning and practicing of knots, rope work and mechanical advantage. From there we will practice and put to the test what was discussed in class, spending each afternoon practicing our river reading, boat handling, and paddle commands in both class II and III rapids. Day two will hold more exciting skill practice including flip drills, whitewater swimming, live throwbagging, and lots of paddling.
What to bring: Dress warm! Spring conditions in Oregon often lead to chilly river temperatures and rainy weather, and we will no doubt be getting wet. We recommend you bring any personal river gear you wish to practice with including PFD, drysuit, personal throw bag, and any other rescue/safety equipment. eNRG will provide PFDs, helmets, farmer john wetsuits, splash jackets, and booties for all those who need equipment.
Meals: Coffee will be available in the mornings courtesy of eNRG. We will have a one hour lunch break each day, there are a few local spots to grab food, but in spring their hours can be unpredictable, so you might want to pack your own meals
PRICES: 
Rafts – $350/person
AFTER BOOKING: Sign online waivers and share them with your fellow party members. Waivers must be filled out by each party member on every visit.
WHAT TO BRING: Water, sunscreen, clothing that can get wet, and additional warmth layers / change of clothing based on weather.
WHERE TO GO: 115 NE Wall St, Mill City, OR 97360.
ARRIVAL TIME: Please arrive 15 minutes prior to your start time. Parking may be limited so factor that into your arrival time.
WHAT WE PROVIDE: Instructors, rafts, lifejacket, wetsuits, splash gear, booties and a paddle.
CUSTOMIZATION: Please call eNRG Kayaking at (503) 475 – 3357 for large groups or other special requests and exceptions.
RESTRICTIONS: No Alcohol allowed. Ages 16+. Must be at least 50 lbs.
WEATHER: Trips run rain or shine, except during extreme conditions including lightning, high winds, and excessive smoke onsite.
IF WE CANCEL: eNRG Kayaking reserves the right to postpone or cancel any trip due to inclement weather, under enrollment, or other unforeseen circumstances, and will issue a full refund in this instance.
IF YOU CANCEL: 72+ hours notice – 85% refund, free reschedule, or voucher for paid amount. 72-24 hours notice – free reschedule or voucher for paid amount. 24-0 hours notice – all refund/benefits forfeited.
 We do not prorate tuition for days missed due to illness, injury, or inappropriate behavior.