SANTIAM WHITEWATER RAFTING: HALF DAY
Raft and Inflatable Kayak just over an hour from Portland
SANTIAM RAFTING TRIP DETAILS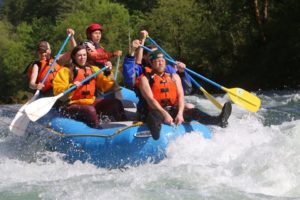 Class 3 Whitewater
Guided
Rafts
Inflatable Kayaks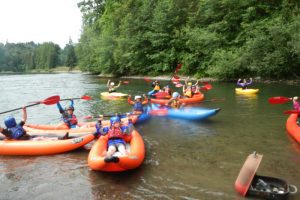 2.5 hours
6 mile average
115 NE Wall St Mill City, OR 97360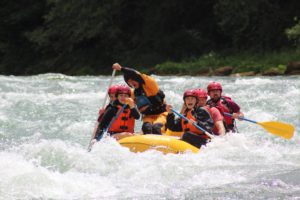 No experience required
Ages 8+
Weight 50-300 lbs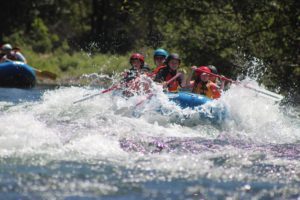 Rafts: $65/person
IKs: $85/person
Take on exciting class II and III rapids on this Santiam River Whitewater Rafting adventure! An exhilarating trip for all ages, this half-day rafting adventure is in Mill City, Oregon, only an hour from Portland, and makes for the perfect family day trip.
Experience
Class 3 Whitewater
Guided
Rafts
Inflatable Kayaks
Logistics

2.5 hours
6 mile average
115 NE Wall St
Mill City, OR 97360
Person
No experience experience required
Ages 8+
50 lbs to 300 lbs
Price
Rafts: $65/person
Inflatable Kayaks: $85/person
- We Offer -
AN ESCAPE
FROM THE CITY
- We Offer -
A FLOAT WITH
THE WILDLIFE
- We Offer -
LOCAL AMENITIES
SANTIAM RAFTING TRIP OVERVIEW
Enjoy the thrill of whitewater with this six mile section of river made up of class II+ rapids with four class IIIs. It takes about 2.5 hours to complete and is a great way to enjoy some splashy fun through adrenaline-pumping rapids while still being suitable for adventurous beginners and families. Choose a raft or inflatable kayak for your adventure. Located near hikes and swimming holes, make a whole day out of this adventure on the scenic Santiam river.
PRICES:
Rafts – $65/person
Inflatable Kayaks – $85/person
Pricing - Rafts
$65/person
AFTER BOOKING: Sign online waivers and share them with your fellow party members. Waivers must be filled out by each party member on every visit.
WHAT TO BRING: Water, sunscreen, clothing that can get wet, and additional warmth layers / change of clothing based on weather.
WHERE TO GO: 115 NE Wall St, Mill City, OR 97360.
ARRIVAL TIME: Please arrive 15 minutes prior to your start time. Parking may be limited so factor that into your arrival time.
WHAT WE PROVIDE: Guide, craft, lifejacket, helmet, and a paddle.
CUSTOMIZATION: Please call eNRG Kayaking at (503) 772 – 1122 for large groups or other special requests and exceptions.
RESTRICTIONS: No Alcohol allowed. Ages 8+. Must be at least 50 lbs.
WEATHER: Trips run rain or shine, except during extreme conditions including lightning, high winds, and excessive smoke onsite.
IF WE CANCEL: eNRG Kayaking reserves the right to postpone or cancel any trip due to inclement weather, under enrollment, or other unforeseen circumstances, and will issue a full refund in this instance.
IF YOU CANCEL: 72+ hours notice – 85% refund, free reschedule, or voucher for paid amount. 72-24 hours notice – free reschedule or voucher for paid amount. 24-0 hours notice – all refund/benefits forfeited.
We do not prorate tuition for days missed due to illness, injury, or inappropriate behavior.