KAYAK FISHING NEAR PORTLAND
WILLAMETTE RIVER KAYAK FISHING DETAILS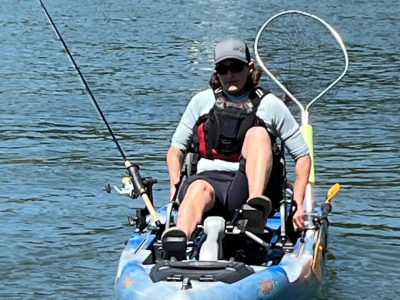 Flatwater
Guided
Fishing Kayaks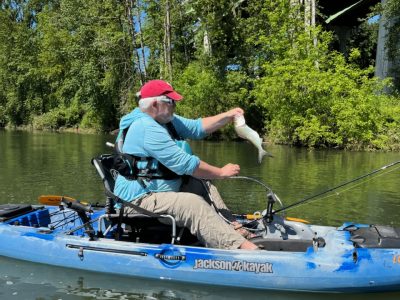 4 hours
1701 Clackamette Dr. Oregon City, OR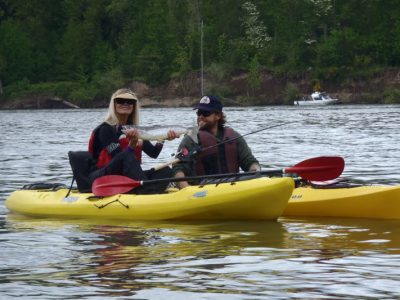 No experience required
Ages 8+
Weight 50-300 lbs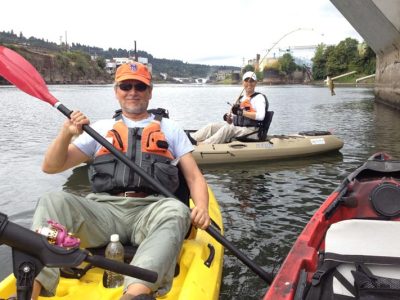 Located at the base of the Willamette Falls is the heart of the best spring Chinook salmon fishing in the region. eNRG Kayaking is your hookup for dropping into top notch kayak fishing in Oregon City.
Experience
Flatwater
Fishing Instruction
Peddle-drive Kayaks
Logistics

4 hours
1701 Clackamette Dr.
Oregon City, OR
Person
No experience experience required
Ages 18+
50 lbs to 300 lbs
- We Offer -
AN INTRODUCTION
TO KAYAK FISHING
- We Offer -
SALMON, STEELHEAD, SHAD,
AND/OR SMALL MOUTH BASS
- We Offer -
WATCH THE WILDLIFE
WILLAMETTE RIVER KAYAK FISHING OVERVIEW
This 4 hour kayak fishing excursion, will introduce our guest to the basics of kayaking with a pedal drive kayak.  It will be led by experienced fisherman Pete Tracy, who has been fishing the waters at Oregon City for 45 years.   Depending on the season we can chase Salmon, Steelhead, Shad, or Smallmouth Bass. We will troll, anchor, or drift for fish depending on conditions and the type of fish.
Guests need to bring a valid Oregon Fishing License, water bottle, sunscreen and snacks. eNRG Kayaking will provide the rest of the gear and tackle. Wet suits are available for rent, and fishing licenses are required for all participants.
In the waters immediately downstream from the Willamette Falls, the largest waterfall in the Northwestern United States which ecompasses a 1500' horseshoe shaped basalt shelf where water plunges 40' into a churning whitewater pool, sits s culturally significant site from many tribal communities along with some of the best fishing found in the state of Oregon.  
The legendary Pete Tracy, hailing from Gladstone, Oregon, where the waters of the Clackamas River feed into the historic Willamette River, has fished these waters exhaustively for the last 45 years chasing Chinook and Coho Salmon, Steelhead, Sturgeon, and Shad.  It's in these waters where Pete has garnered the name "Mayor of the Garbage Hole" and "Shad Mast".  If there are fish returning to their natal waters to spawn there is high certainty Pete will be wetting a line, and if anyone's catching, it's usually Pete.  
Local outdoor writer Troy Buzalasky has fished with Pete Tracy across Oregon and Washington, and Alaska, and has written several stories about fishing with Pete.  "Pete's one fishy dude," explains Troy.  "Whether he's back bouncing for King Salmon, trolling for fall Chinook, bobber fishing for coastal Kings, or catching Shad by the dozen, Pete is Always on the fish…it's a rare day if Pete's not the 'Hot Rod' and 'Hot Boat' on the river!"
If you're looking for a fish catching day on the water, look no further than eNRG Kayaking and Pete Tracy, "Mayor of the Garbage Hole", "Shad Master" and local fishing legend.
AFTER BOOKING: Sign online waivers and share them with your fellow party members. Waivers must be filled out by each party member on every visit. Buy a valid one-day fishing License.
WHAT TO BRING: Valid Oregon fishing license, water, sunscreen, clothing that can get wet, and additional warmth layers / change of clothing based on weather.
WHERE TO GO: 1701 Clackamette Dr. Oregon City OR 97045.
ARRIVAL TIME: Please arrive 15 minutes prior to your start time. Parking may be limited so factor that into your arrival time.
WHAT WE PROVIDE: Instructor, craft, lifejacket, and a paddle, rod / reel / quick fish lure, set up, shuttle back to shop.
CUSTOMIZATION: Please call eNRG Kayaking at (503) 772 – 1122 for large groups or other special requests and exceptions.
RESTRICTIONS: No Alcohol allowed. Ages 18+. Must be at least 50 lbs.
WEATHER: Trips run rain or shine, except during extreme conditions including lightning, high winds, and excessive smoke onsite.
ENROLLMENT: 1 person minimum per class.
IF WE CANCEL: eNRG Kayaking reserves the right to postpone or cancel any trip due to inclement weather, under enrollment, or other unforeseen circumstances, and will issue a full refund in this instance.
IF YOU CANCEL: 72+ hours notice – 85% refund, free reschedule, or voucher for paid amount. 72-24 hours notice – free reschedule or voucher for paid amount. 24-0 hours notice – all refund/benefits forfeited.
 We do not prorate tuition for days missed due to illness, injury, or inappropriate behavior.