SANTIAM RIVER RAFT FISHING DETAILS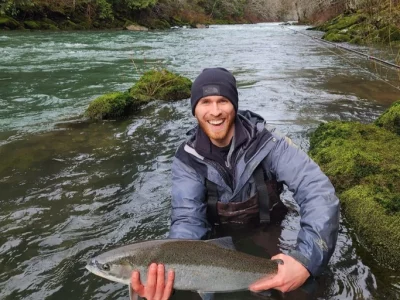 Whitewater
Guided
Raft Kayaks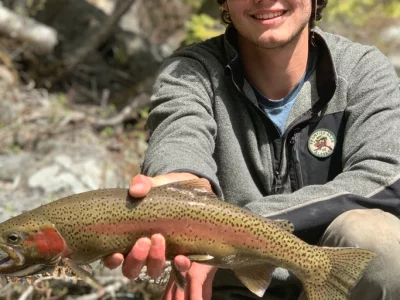 6 hours
6 miles
115 NE Wall St
Mill City, OR 97360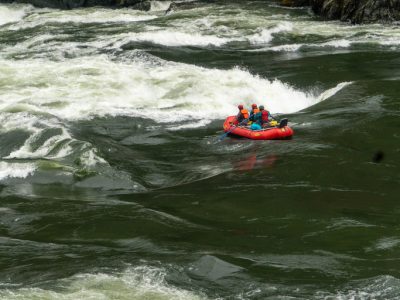 Ages 18+
Weight 50-300 lbs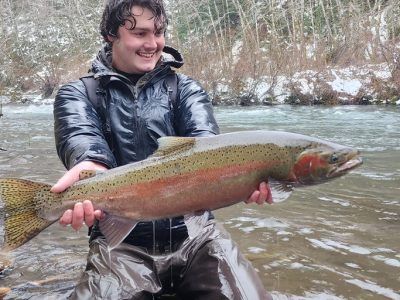 $450- 1 person
$600- 2 people
$900- 3 people
$1150- 4 people
Ever thought about fishing on the world class N Santiam River?  Not only are there fun / easy class II rapids and tailraces, but there are many productive pools and eddies along the way, and our specialized oar frame rig with anchor combined with our best fishing guides are sure to get you into the bite.
Experience
Whitewater
Fishing Instruction
Rafts
Logistics

6 hours
6 miles
115 NE Wall St
Mill City OR, 97360
Person
No experience experience required
Ages 18+
50 lbs to 300 lbs
- We Offer -
AN INTRODUCTION
TO RAFT FISHING
- We Offer -
STEELHEAD
AND RAINBOW TROUT
- We Offer -
WATCH THE WILDLIFE
SANTIAM RIVER RAFT FISHING OVERVIEW
The summer steelhead are re-known on this river, but we mainly target the rainbow trout (and occasionally get "lucky").  The trout on this stretch are abundant, beautiful, and offer a great thrill for the novice fisherman or the advanced angler.  Your day will start out around 8:30am meeting on the lower Santiam River.  We will load up into a vehicle with all the gear and drive up about 8 miles to our starting point where we rig, do a safety talk and go over details for the day to get on the fish!  We normally float and fish from about 9-2:30pm where will end up back at your car.  We will provide snacks and water on the river.
PRICE:
$450- 1 person
$600- 2 people
$900- 3 people
$1150- 4 people
AFTER BOOKING: Sign online waivers and share them with your fellow party members. Waivers must be filled out by each party member on every visit. Buy a valid one-day fishing License.
WHAT TO BRING: Valid Oregon fishing license, water, sunscreen, clothing that can get wet, and additional warmth layers / change of clothing based on weather.
WHERE TO GO:115 NE Wall St Mill City, OR 97360.
ARRIVAL TIME: Please arrive 15 minutes prior to your start time. Parking may be limited so factor that into your arrival time.
WHAT WE PROVIDE: Instructor, craft, lifejacket, and a paddle, rod / reel / quick fish lure, set up, shuttle back to shop.
CUSTOMIZATION: Please call eNRG Kayaking at (503) 772 – 1122 for large groups or other special requests and exceptions.
RESTRICTIONS: No Alcohol allowed. Ages 18+. Must be at least 50 lbs.
WEATHER: Trips run rain or shine, except during extreme conditions including lightning, high winds, and excessive smoke onsite.
ENROLLMENT: 1 to 4 people
IF WE CANCEL: eNRG Kayaking reserves the right to postpone or cancel any trip due to inclement weather, under enrollment, or other unforeseen circumstances, and will issue a full refund in this instance.
IF YOU CANCEL: 72+ hours notice – 85% refund, free reschedule, or voucher for paid amount. 72-24 hours notice – free reschedule or voucher for paid amount. 24-0 hours notice – all refund/benefits forfeited.
 We do not prorate tuition for days missed due to illness, injury, or inappropriate behavior.